"Let's have fun together"

Bill Wyman's Rhythm Kings in Wörgl, Austria, June 18th, 2004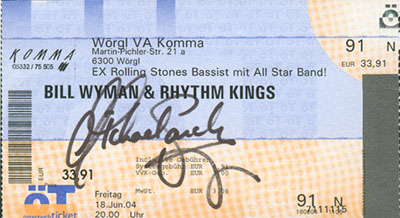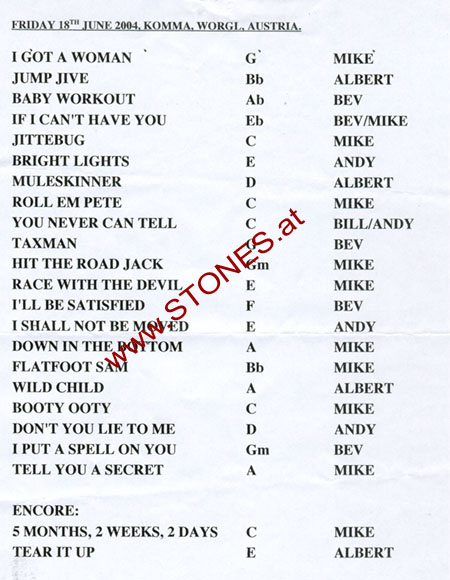 BILL WYMAN's Rhythm Kings, KOMMA, Wörgl, Austria, June 18th 2004:
SETLIST:

I Got A Woman
Jump Jive And Wail
Baby Workout
If I Can't Have You
Jitterbug Boogie
Bright Lights - Big City
Mule Skinner Blues
Roll Em Pete
You Never Can Tell
Taxman
Hit The Road Jack
Race With The Devil
I'll Be Satisfied
I Shall Not Be Moved
Down In The Bottom
Flatfoot Sam
Wild Child
Booty Ooty
Don't You Lie To Me
I Put A Spell On You
Tell You A Secret

Encore:

5 Months, 2 Weeks, 2 Days
Tear It Up
Review by the author:
This show has been one of the most relaxing shows for a long time, it was music at it's best, simply told: a show you can dream of!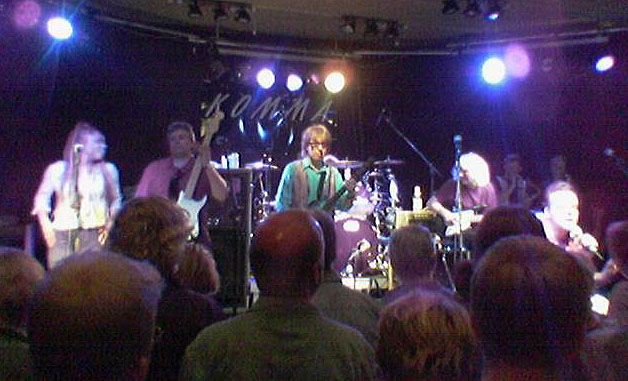 Bill Wyman's Rhythm Kings
Wörgl, Austria, June 18th, 2004
© Wolfgang Morscher

The Rhythm Kings played more than perfect, so it was more than pleasure to listen. It was clear sound to listen and watch them them playing, even on instruments as jew's-harp. Bill Wyman invited the audience to dance, even he didn't dance himself.

Later during the show ("Tell You A Secret") the "Rhythm Kings" invited about 10 people to dance on stage. By the way, one of the "secrets", they told us during this song is, to visit: www.billwyman.com or to buy the DVD "Let The Good Times Roll", which is definitely a good idea, as it offers two (2 !) shows plus bonus material on this outstanding band for rather cheap cost!
Contrary to the band, Bill Wyman played together for many years before, the "Rhythm Kings" offered conversation with the audience, eg. Bill Wyman wanted to learn more German language and explained some things in German with the help of the audience.
The audience, by the way, was a relaxed mix of people of all ages. From point of the author, it seemed funny to watch people aged about 70 years until childhood. For example, one man in front row, aged about 65, seemed to have a most fun, as his daughter danced with the band. Anyway the audience was about 400, and this place allowed cool standing, drinking, smoking, dancing at best air, just relaxing.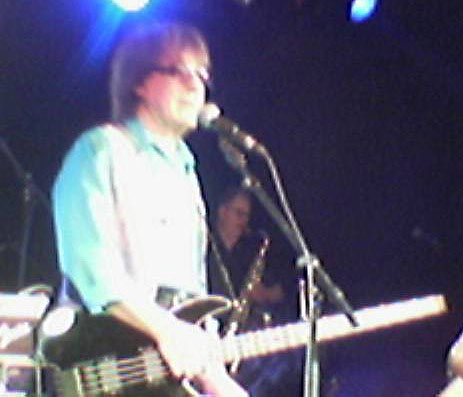 Bill Wyman's Rhythm Kings
Wörgl, Austria, June 18th, 2004
© Wolfgang Morscher

From point of music Bill Wyman's concert was more than perfect: So it's hard to point out peaks out of a show which is a peak?
"Jitterburg Boogie" still sounds in my head, that is definitely a great Wyman-composition. "Hit The Road Jack" was an unbelieveable conversation between audience and the "Rhythm Kings", "Tell You A Secret" was as well more than conversation, as well as all other songs...
Don't miss any of the future shows! Just my humble advise...
- - -
Bill Wyman also tried to meet friends and fans, kindly as always! Here is Bill with Walter Grill from Austria, signing his book "Bill Wyman - Stone Alone" © 1990: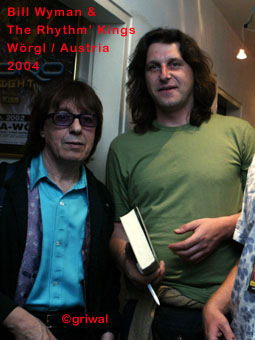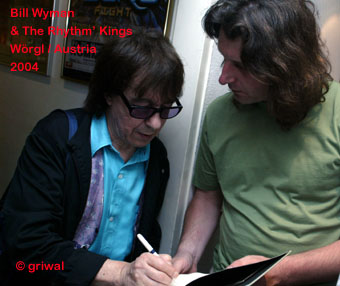 - - -
Links:

Bill Wyman at STONES.at: Bill Wyman
Bill Wyman's site: Bill Wyman.com
- - -
PS: If you know of any photos or other recordings of the show, please let me know!
Anmerkung: Ich suche Fotos und sonstige Aufnahmen vom Konzert, bitte geben Sie mir Bescheid!