THE ROLLING STONES MOVIES and VIDEOS
for cultural interest only, no trade or sale !
Music Videos: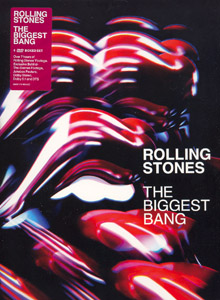 The Rolling Stones
The Biggest Bang
4 DVD Boxed Set
© 2007 by RST Concerts, Inc.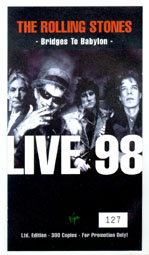 The Rolling Stones
Bridges To Babylon
Live 98
Limited Edition . copy # 127 / 300 Copies . For Promotion Only !
© 1998 by Virgin records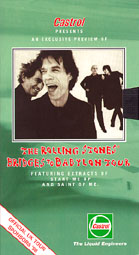 Castrol presents an exclusive preview of
The Rolling Stones Bridges To Babylon Tour
© 1998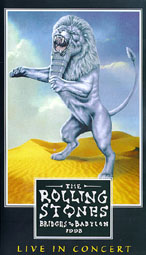 Bridges To Babylon 1998
Live In Concert
© 1997 RS Tours, Inc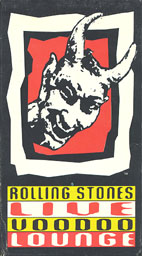 Live Voodoo Lounge
Voodoo Lounge Tour 94/95
© 1994 Promotour Productions, Inc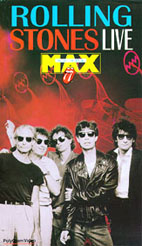 Rolling Stones Live At The Max
shot on the "Imax"-System in London, Berlin and Turin 1990
85 minutes
© 1991 Polygram Video 633 218-3
DVD version © 1999 Castle Music Pictures, CMP 1003
Tracklisting and details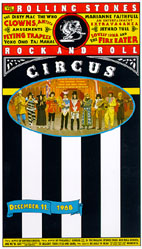 The Rolling Stones Rock And Roll Circus
December 11, 1968
65 minutes
© 1995 Abkco Films 634 590-3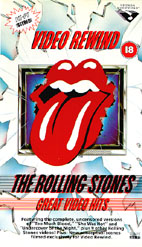 Video Rewind - Great Video Hits
12 complete musicvideos, compilation directed by Julien Temple
© 1986 Vestron Video

The Rolling Stones
Gimme Shelter
A Maysles Films, Inc. Production
Directed by David Maysles, Albert Maysles, Charlotte Zwerin
recorded in Altamont, Saturday, xxth xxxxx 1969, 90 minutes
© 1970, 1993 Maysles Films, Inc. 086 500-3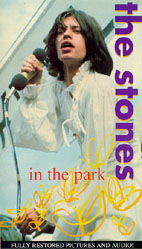 The Stones In The Park
recorded on Saturday, 5th July 1969, 53 minutes
© 1983 BMG video 791 223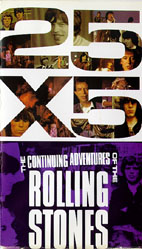 25x5 - 25 Years - The Continous Adventures of the Rolling Stones
130 minutes Stones story
© 1989 Promotour U.S.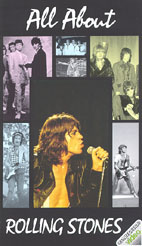 All About Rolling Stones

© 1991 Fonit Cetra Video, Italy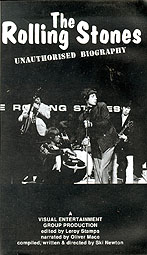 The Rolling Stones
Unauthorised Biography
A Visual Entertainment Group Production
edited by Leroy Stamps
narrated by Oliver Mace
compiled, written & directed by Ski Newton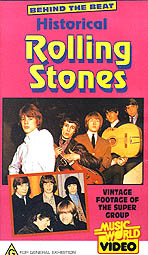 Behind The Beat
Historical Rolling Stones
Vintage Footage Of The Super Group

© 1994 Hughes Leisure Group, Australia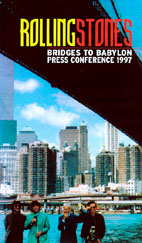 Bridges To Babylon Press Conference 1997
Promotional video of the satellite broadcast
50 minutes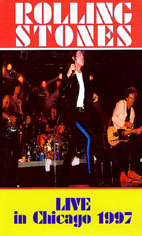 LIVE in Chicago 1997
Promotional video
15 minutes of rare unseen professional footage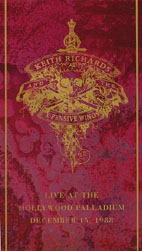 Keith Richards & The X-Pensive Winos
Live at the Hollywood Palladium, December 15th 1988
© 1991 Promotone B.V

---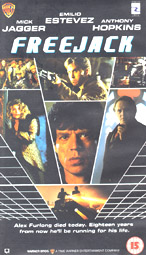 Freejack
James G. Robinson presents a Morgan Creek Picture a James G. Robinson/Ronald Shusett production, Emilio Estevez Mick Jagger Rene Russo and Anthony Hopkins Freejack Jonathan Banks and David Johansen music by Trevor Jones, director of photography Amir Mokri, production designer Joe Alves, editor Dennis Virkler, executive producers James G. Robinson and Gary Barber & David Nicksay, screenplay by Steven Pressfield & Ronald Shusett and Dan Gilroy, screen story by Steven Pressfield & Ronald Shusett, based upon the novell "Immortality, Inc." by Robert Sheckley, produced by Ronald Shusett and Stuart Oken, directed by Geoff Murphy
Running Time: approx. 105 mins, Colour / English Language
© 1992 Morgan Creek Productions, Trademark of Warner Bros.

---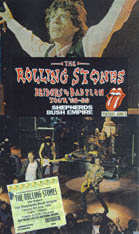 The Rolling Stones, Bridges To Babylon Tour '98-99
Shepherds Bush Empire
Tuesday, June 8, 1999
Private Film, Duration: 100 Mins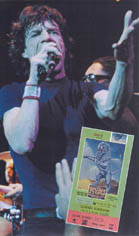 The Rolling Stones
Wembley Stadium, Saturday 12 June '99
Private Film, Duration: 160 Mins

---
Further videos - list for documentation only, no trade !

Urban Jungle '90, Live in Barcelona
Ladies & Gentlemen - The Rolling Stones - Marquee '71
Live in Vienna 1990 (audience recording)
Hail, Hail, Rock'n Roll, 1987, (Chuck Berry, Keith Richards)
Cocksucker Blues
Rocks Off, 1981
Performance
Ned Kelly
The official Dolezal - Rossacher (DoRo) documentaries
Shepperds Bush
Imst, 05.31.1999 audience recordings
---

Comments and suggestions please: Wolfgang Morscher back to Exhibition main page