September 23rd
Today's Song: have you seen your mother, baby, standing in the shadow ?
From Today's Single: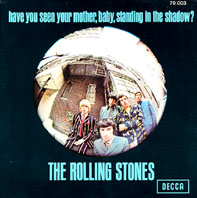 September 23rd, 1963: concert at Studio 51, Ken Coyler Club, London
September 23rd, 1966: two shows at Royal Albert Hall, London
"Have You Seen Your Mother Baby" released
September 23rd, 1970: two shows at Palais des Sports, Paris, France
September 23rd, 1988: Mick Jagger plays at Boondall Entertainment Centre, Brisbane, Australia
September 23rd, 1994: second concert at Veteran Stadium, Philadelphia
September 23rd, 1997: opening concert of the "Bridges To Babylon Tour" at Soldier Field, Chicago, IL. Although the audience even don't knows the new songs, the new songs meet highest approval.